OMAX Corporation®, the leading manufacturer of precision abrasive waterjet systems introduces the MAXIEM product line. Manufactured entirely in the USA, MAXIEM Waterjets broaden the abrasive waterjet product market and integrate proven technologies in a cost-efficient package to provide users with an affordable, highly productive solution for part production.
Every aspect of the MAXIEM JetCutting Center has been designed to offer incredible value. We power these value-inspired machines with extensive OMAX innovation so they can deliver superior performance, versatility, and high productivity at an affordable price. For those currently considering the addition of waterjet machining to their operations, MAXIEM offers an unparalleled advantage. MAXIEM JetCutting Centers come in multiple configurations with various accessory options and direct drive pump setups, ensuring a profitable fit for your operations.
Each MAXIEM JetCutting Center is powered by the company's proven control software, bringing affordable abrasivejet technology to an expanding and diverse group of industries. The Intelli-MAX® Software Suite, which includes Layout and Make, is a revolutionary machine control software written specifically for abrasive waterjet systems and simplifies control of the jet stream while cutting. From producing drawings in Layout to utilizing Generation 3 Cutting Model calculations in Make, the state-of-the-art Intelli-MAX software brings optimal efficiency to your MAXIEM cutting activities.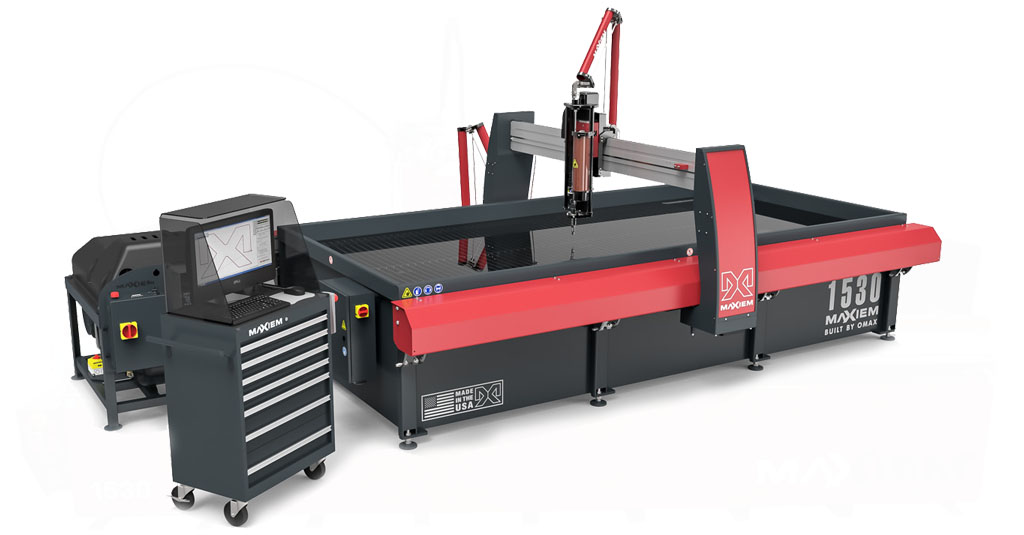 The Intelli-MAX Advantage:
Faster cutting and higher precision than all competitor control software in its class
Runs on widely compatible Windows® operating systems
Fast and easy programming with MAXIEM's built-in CAD/CAM system or program using nearly any popular CAD/CAM package you are already familiar with
Using built-in cutting models and automatic cutting strategies, the software provides the fastest cutting and highest precision in its class, while minimizing consumables for the lowest cost parts
A sampling of Intelli-MAX Features:
Built-in CAD/CAM system for waterjet specific fast and easy programming (Intelli-MAX Layout)
Industry leading machine tool control (Intelli-MAX Make)
Supports the following CAD file formats when imported into Intelli-MAX Layout: DWG, DXF, ORD, AI, PDF, SVG. Can also convert most common types of non-vector files such as JPEG, GIF, TIFF, BMP, PNG, etc.
Capable of customizing motion preferences
Offers Heads Up Traverse support
Includes a pre-made report template
Offers a 3D Path Editor utility to allow you to add Z-axis and/or tilt data to an existing 2D tool path Supports accessories such as the A-Jet® for 3D cutting, Terrain Follower/A-Jet, Collision Sensing Terrain Follower for cutting on warped plate safely
MAXIEM gives you room to advance:
We are committed to the continuous improvement of our industry acclaimed Intelli-MAX Software so that you can increase your productivity and profitability. When you are ready for the most up-to-date software and machining capabilities for your waterjet, you have the option to purchase Intelli-MAX software upgrades when they become available. Minor updates and software bug fixes are free and can be easily downloaded from the online, customer-oriented MAXIEM Support Site. We make it convenient for you to update your MAXIEM's PC-based controller so you get the best return of your abrasive waterjet investment.