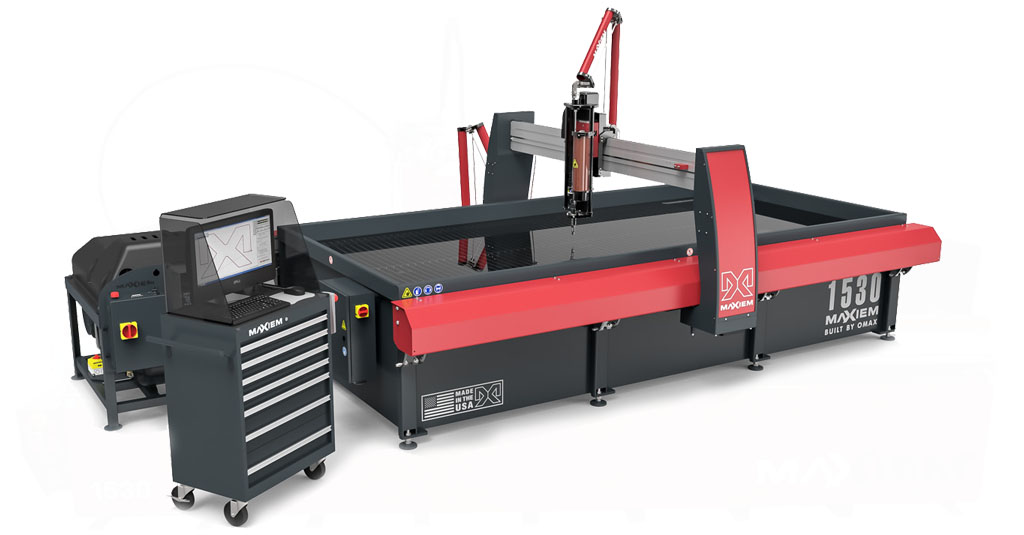 OMAX Corporation®, the leading manufacturer of precision abrasive waterjet systems introduces the MAXIEM product line. Manufactured entirely in the USA, MAXIEM Waterjets broaden the abrasive waterjet product market and integrate proven technologies in a cost-efficient package to provide users with an affordable, highly productive solution for part production.
Every aspect of the MAXIEM JetCutting Center has been designed to offer incredible value. We power these value-inspired machines with extensive OMAX innovation so they can deliver superior performance, versatility, and high productivity at an affordable price. For those currently considering the addition of waterjet machining to their operations, MAXIEM offers an unparalleled advantage. MAXIEM JetCutting Centers come in multiple configurations with various accessory options and direct drive pump setups, ensuring a profitable fit for your operations.
Each MAXIEM JetCutting Center is powered by the company's proven control software, bringing affordable abrasivejet technology to an expanding and diverse group of industries. The Intelli-MAX® Software Suite, which includes Layout and Make, is a revolutionary machine control software written specifically for abrasive waterjet systems and simplifies control of the jet stream while cutting. From producing drawings in Layout to utilizing Generation 3 Cutting Model calculations in Make, the state-of-the-art Intelli-MAX software brings optimal efficiency to your MAXIEM cutting activities.